what I use today; ca. 2002: Uwatec SmartPRO, Jens H., Snafu ...
actually I use a really smart thing:
the SCUBAPRO / UWATEC Smart PRO
it features another ZH-L8: the ZH-L8 ADT MB which means
8 compartments with an adaptive feature (ADT) to temperature and workload
as well as reduced micro-bubbling (MB)
gee: it features the so-called "Level Stops", which are
to put it bluntly, just user adjustables "Haldanian / Hills (B.A.) deep Stops"
as well NITROX from 21 to 100 % Oxygen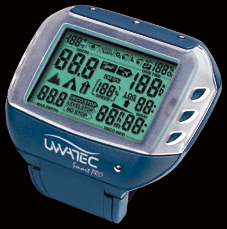 For a complete story of the wonderful SCUBAPRO/UWATEC machines, as well
an intro to the ADT MB model and the rationale for the level stops (2002; © UWATEC / Scubapro)
---
August 2002, Jens H. dives to 240 m at Hurghada
and here we have the modified dive computers from Suunto and Scubapro
they work until 1000 m, that's why you have to multiply the depth by 10 !

a couple of data for this dive on 08/12/2002:
in ca. 10 min to 241 m, 18 km drift
first deep stops at 180 and then at 150 m
run time: 358 min
---
Bottom line is after diving a couple of thousand dives with a lot of different computers:
every dive computer fails, it's only a matter of time (***)
according to Edsel MURPHY, failure of a dive computer occurs only in the most critical phase of the dive!
when it comes to computer failure, you should be able to use your own brain in conjunction with a depht-gauge (analogous), a watch (automatic) and dive table (plastic: which you have to carry in your BCD, if you don't know your tables by heart!)
(***)well, you don't believe me? No problem: here is a citation of somebody well-known and considered as an expert. It is the DSAT Tec Deep Diver Manual on p. 163:
(PADI Product No. 79138 (12/00) Version 1, ISBN 1-878663-25-9)
"If you have not seen a dive computer failure, you have not been diving enough." No more comments from my side ...
... well, here is another one,
---
what I found recently in my archive (August 2002) from a maledivian house-reef dive, a couple of years ago ...
it was one of these dives, when I had a couple of computers with me and my "little" Nikonos with the 50 mm Makro lens
what we have here is "on line" evidence of a dive computer malfunction
Hi, SCUBAPRO Guys: I am sorry for that one, but this is what really happens, when you dive quite frequently
well, take it as an honor, that somebody took this historical picture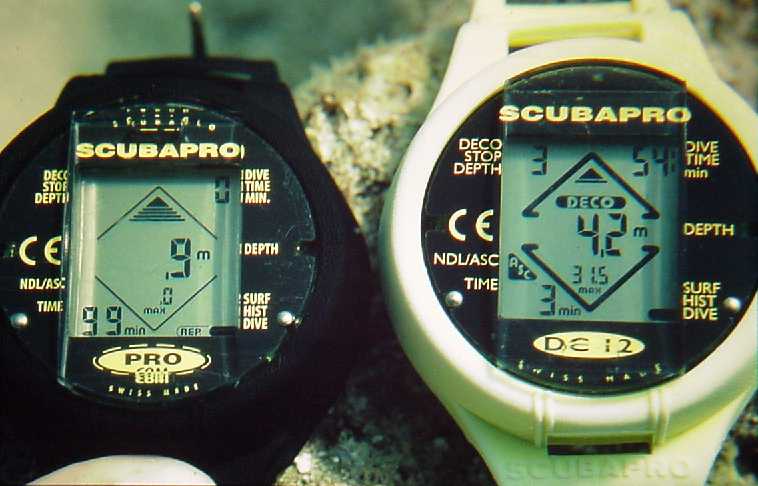 i took this picture during a 3m deco-stop, so I had ample time to do it right ...
well, Maledivian shortly after the El Nino, there was not much left to look at, except my computer displays ...
AND, by accident, I had still a couple stills left over ...
the rightmost computer works allright: we see the last deco stop at 3 m. during a dive to 31.5 m for 54 minutes
the actual depth beeing 4.2 m
the leftmost 's gone left: it is still in dive modus, but displays a depth of .9 m
and a NDL of 99 min. which is quite contrary to what I really had ...
---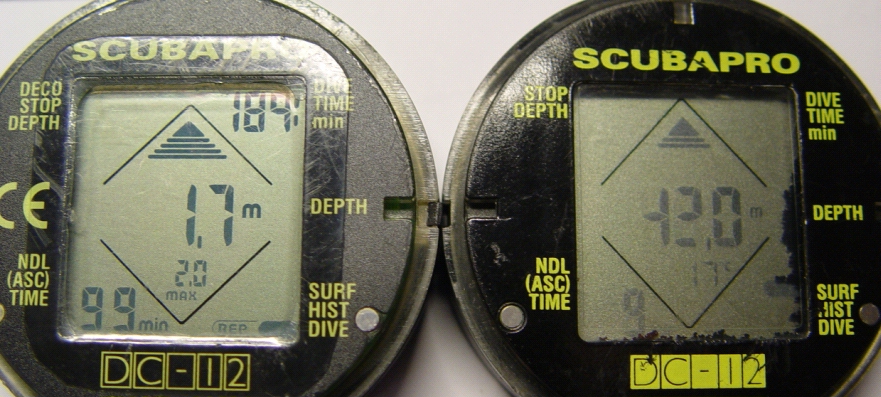 oki doki, the last one from 2004:
directly from my workbench
LEFT: still in dive modus: DIVE REP (Piezocrystal is defect)
RIGHT: right, as always, in comparison, at ambient pressure and 17 degrees of celsius: SURF ...

and the real last one, as well directly from the work-bench, the good old ALADIN Ultra:
---
back to: Contents